27 January 2012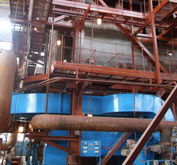 Metinvest is an international vertically integrated metal and mining company within the framework of constant improvements reconstructed the turbine cooling system in the heat and power plant at Avdiivka Coke Plant. While repairing it became possible to reestablish the rating of the equipment at this production area that facilitates the electricity production. Project investments amount to 5,6 mln USD.
Within the framework of the reconstruction the complete repair two cooling towers (air-cooling towers) is finished where the lagging and frame steel construction were completely changed. Circulating water piping from the cooling towers to the turbine room No.2 was completely replaced.
To improve energy efficiency of the turbine room the tube condensers shall be replaced with more efficient ones manufactured by "Alfa Cond" which were specially designed by the Swedish company "Alfa Cond". At the moment the replacement is conducted on the turbines No. 7 and 8.
Due to the conducted reconstruction and other energy equipment repair the heat and power plant in 2011 covered the requirements of Avdiivka Coke to obtain energy.