24 January 2012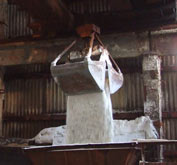 Metinvest Group is an international vertically integrated metal and mining company within the framework of constant improvements finished the building of new sulfate department and started its commissioning at Avdiivka Coke Plant. Commissioning of new department will increase the purification capacity of coke gas from ammonia by 50% compared to the existing one. It makes possible while increasing the overall industrial production to expand ammonia sulfate production that is used as agricultural fertilizer.
The building of new department was started in summer 2010. To the present moment the four-story building had been raised, new modern equipment was purchased and installed. Total investments to realize this project increased 50 mln UAH upon the beginning of 2012.
The first and one of the basic stages of coke gas purification by recovering the ammonia is implemented in the sulfate department located at the chemical part of Avdiivka Coke Plant. The deeper purification process in the sulfate department improves the production process of the other chemical shops of the plant: the quality of coke gas purification from chemical elements is increased at the further stages, wearing of metal construction is reduced that is the subject to heat the coke shops and the heat and power plant.
To the present moment the new sulfate department in under commissioning as well as the second stage of the reconstruction of this department has been started –the inside storage of ammonia sulfate is to be built where new rotary drier equipped with the cleaning system is to be installed. This system is to reduce the sulfate dust emission to the environment and to improve the production quality.
Ammonia sulfate is exported to Turkey, Italy, Egypt, Croatia, Serbia.