27 December 2011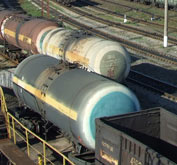 At Avdiivka Coke included in Metinvest Group the electronic wage scales were put into operation in order to load the liquid pitch to the vessels directly on-site at the coke-pitch shop. It made possible to increase operational efficiency of finished products loading, exclude the human factor influence to the process as well as to improve the working conditions for the staff employed at this production area.
New equipment allows check of vessels fill rate and define the precise weight of the shipped products directly from the operator's room while before the load filling level had been checked manually.
The particular feature of the charging process at this shop is that the specific gravity changes depending on the type of liquid pitch and its heating temperature, and this makes difficult the calculation of the precise time to fill the vessels in terms of volume.
New wage scales are equipped with six load cells ensuring high-grade security from dust and moisture effect.