16 December 2011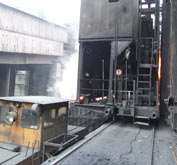 Metinvest Group is an international vertically integrated metal and mining company in scope of the continuous improvement program at Avdiivka Coke Plant provided video control system on all 13 door extractors. The investments to reequip them amounted to almost 300 thousand UAH.
Installation of the video control system made possible to eliminate "blind" zones for operators while charging and discharging of coke ovens, to survey the working place completely, because it is obstructed by big dimensions of door extractor, provide clear view of machine route and its facilities.
These innovations are used to reduce to the minimum level the possibility of emergency situation while providing coke ovens maintenance, improving the working conditions of coke shops personnel and ensuring safety work.
Besides this it is possible due to video records to analyze the observance the safety procedures at this production area, to admit preventive measures and monitor the fulfilling the requirements of labor safety.
Avdiivka Coke Plant is the one among the Ukrainian by-product coke plants that installed the video control system on the basic machines which ensure the production cycle of coke battery. The main complication of this innovation is the following: the video system on door-extractors should work in high temperature conditions of coke ovens; the dust should not settle and shall provide satisfactory working conditions in the production process.