24 November 2011 // Press centre PJSC "Avdiivka Coke Plant"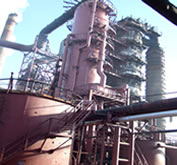 The planned audit of the second part quality management was conducted at Avdiivka Coke Plant included in Metinvest Group. The auditors were the representatives of Kremenchug Carbon Black Plant where Avdiivka Coke supplies the anthracene oil and pitch distillates that are the raw material to produce carbon black.
When the examination was conducted the consumers of the production mix manufactured by Avdiivka Coke found confirmation that in Tar-processing shop the technological process conditions are strictly observed as stated in the contract between the plants. The activity of central plants laboratory and technical department was examined, the auditors also became familiar with the three-stage reliable quality control system of the chemical products manufactured by Avdiivka Coke. In accordance with this scheme the plant provides the feedstock control, technology compliance while production process in the shop and final product qualitative characteristics in the central plants laboratory.
Yet again the provided quality management audit confirmed the status of Avdiivka Coke Plant as the high-technology plant and reliable quality product supplier as well as strengthened the partnership relations between the plants.