4 October 2011 // Press centre PJSC "Avdiivka Coke Plant"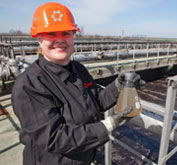 Metinvest Group is an international vertically integrated metal and mining company within the framework of continuous improvement program provides re-equipment of waste-water treatment plant from phenol. With the use of new equipment the effectiveness of waste-water treatment plant is going to be increased to 99%. Total investment value to the building of it is 15 million UAH. The plant is planned to be brought into operation in 2012.
The effectiveness of this plant is reached as it makes possible to decrease phenol concentration in waste water up to minimum level that is necessary to activate sludge waters in further. So new plant provides more deep purification of waste water collected at the plant as well as from other substances.
Setting into operation of new equipment also enables to establish production output from byproducts – phenolates which are valuable raw material for chemical industry. This product is used in synthetic resins, plastics, polyamides, medicines, coloring agents, anti-oxidants, antiseptics production.
"In spite of the coke production is inevitably associated with heavy load to the environment, emissions is beneath the mark several times at Avdiivka Coke. Long-range development program regarding environment protection is being implemented successfully at the moment at our plant", said Gennadiy Vlasov, General Director of PJSC "Avdiivka Coke Plant".
Editorial notes:

PJSC "Аvdiivka coke plant" is the largest high technology coke plant in Europe. It produces almost 30 types of products, the basic one is coke for metal industry. Avdiivka coke is included in Coal and Coke Department of Metinvest Group.

Metinvest is a vertically integrated mining group of companies that controls the assets in every link of production chain starting from yielding of iron ore raw materials and coal and coke production up to issuing of semi-finished and finished products: steel, tube rolled products and coils as well as manufacturing of other products with high added value. The Group consists of metal and mining enterprises located in Ukraine, Europe and USA and possesses sale facilities comprising all key world markets.
The main shareholders of Metinvest are SCM (71,25%) and Smart Holding (23,75%) they manage it jointly.

METINVEST HOLDING, LLC – the management company of Metinvest Group.