29 September 2011 // Press centre PJSC "Avdiivka Coke Plant"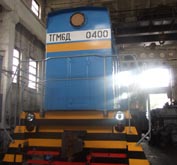 Metinvest Group is an international vertically integrated metal and mining company, in 2011 it allocates 44 million UAH to perform complete repair of shop station, railways as well as to replant the railway equipment at Avdiivka Coke Plant.
Within the framework of reconstruction and re-equipment of the pool in Railway shop Avdiivka Coke Plant purchased new locomotive ТГМ-6Д manufactured in Russia, two diesel-electric and two diesel-powered locomotives and the railway crane were completely repaired where the old diesel had been displaced for new modern compatible one.
Overhead construction at "Coal and coke station No.1" was completely repaired, in particular 14 metal cover constructions as well as contact wire (1110 m) and suspension strand (850 m) in railway power-supply system were displaced. To the end of October the contact wire (900 m) is planned to be displaced.
Complete repair of vessels is almost performed to make possible delivery of chemicals produced by Avdiivka Coke Plant.
The launched reconstruction leads to improve the quality and the regularity of railway service for structural departments of the plant, raw material suppliers and consumers.