5 September 2011 // Press centre PJSC "AKHZ"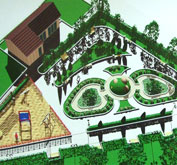 In Avdiivka town (Donetsk region) the best project "My green town" was started to be devel-oped and implemented regarding landscaping of municipal area. This environmental project is realized in the framework of new corporate social program of Metinvest Group called "The Healthy environment is a deal for everybody" that is aimed to provide ecological education in cost-effective use of resources, energy-savings and to involve the local population in the decision of environment problems of towns where Metinvest is presented.
In 2011 Avdiivka town has been selected as the pilot region to establish the corporate social program "The Healthy environment is a deal for everybody" along with Enakievo town.
The best project to be realized in Avdiivka town was one prepared by the specialists of municipal executive committee. It includes setting up the recreation sites over the crossing of Kommunalnaya street and Karl Marks street using decorative elements, certified equipment for children's rest as well as planting 185 trees and bushes.
At present the ground works have been conducted at the territory offered by the municipal executive committee to realize the project. The municipal executive committee of Avdiivka town will devote funds to landscape the territory and Metinvest Group will devote funds to make it green.
The successful experience of pilot project implementation in Avdiivka town will be the good motivation to take active part in the projects "The Healthy environment is a deal for everybody" in other towns where Metinvest is presented.
Editorial notice

Metinvest is a vertically integrated mining group of companies owning assets in each link of the production chain from iron ore and coal min-ing and coke production through to manufacture of semi-finished and finished steel products, pipe rolling and coils as well as other value-added products. Group consists of mining, iron and steel companies, located in Ukraine, Europe and USA and has a sale network covering all key world markets. The major shareholders of Metinvest are SCM Group (71,25 % ownership) and Smart-Holding (23,75 % ownership) partnering in Company's management.

METINVEST HOLDING, LLC is the managing company of Metinvest Group.